Kudumbashree had organised 'Onapulari' & 'Poove Poli'-Online Onam celebrations for Buds children and Balasabha members, during this onam season. The online onam celebration programmes envisaged to create an opportunity for BUDS and Balasabha children to celebrate this onam in all its glory, with continuing care amidst the crisis of the covid-19 pandemic. Prizes would also be distributed among those who showcased the best performances in the onam celebrations that consisted of various competitions.
'Onapulari 2021' the onam celebrations organized for the students of the BUDS Institutions that function in the Local Self Government Institution Level has been started on 19 August 2021. Better participation was reported in the competitions from the first day itself.
Around 5000 children became part of the 
competitions that lasted till 23 August 2021. 
'Malayali Manka', 'Kerala Sreeman/Mahabali', 'Onappatt', 'Njanum ente Pookkalavum', Drawing competition etc were organized in the junior-senior levels. Parents had taken the photo/ video of the performances of the BUDS students and had sent the same to the teachers. These videos would be judged and the winners would be selected. Everyone who had participated in the programme would be entitled with the 'Certificate of Participation'. In addition, those who get the first three places in the district level and state level would be awarded with certificates and mementos.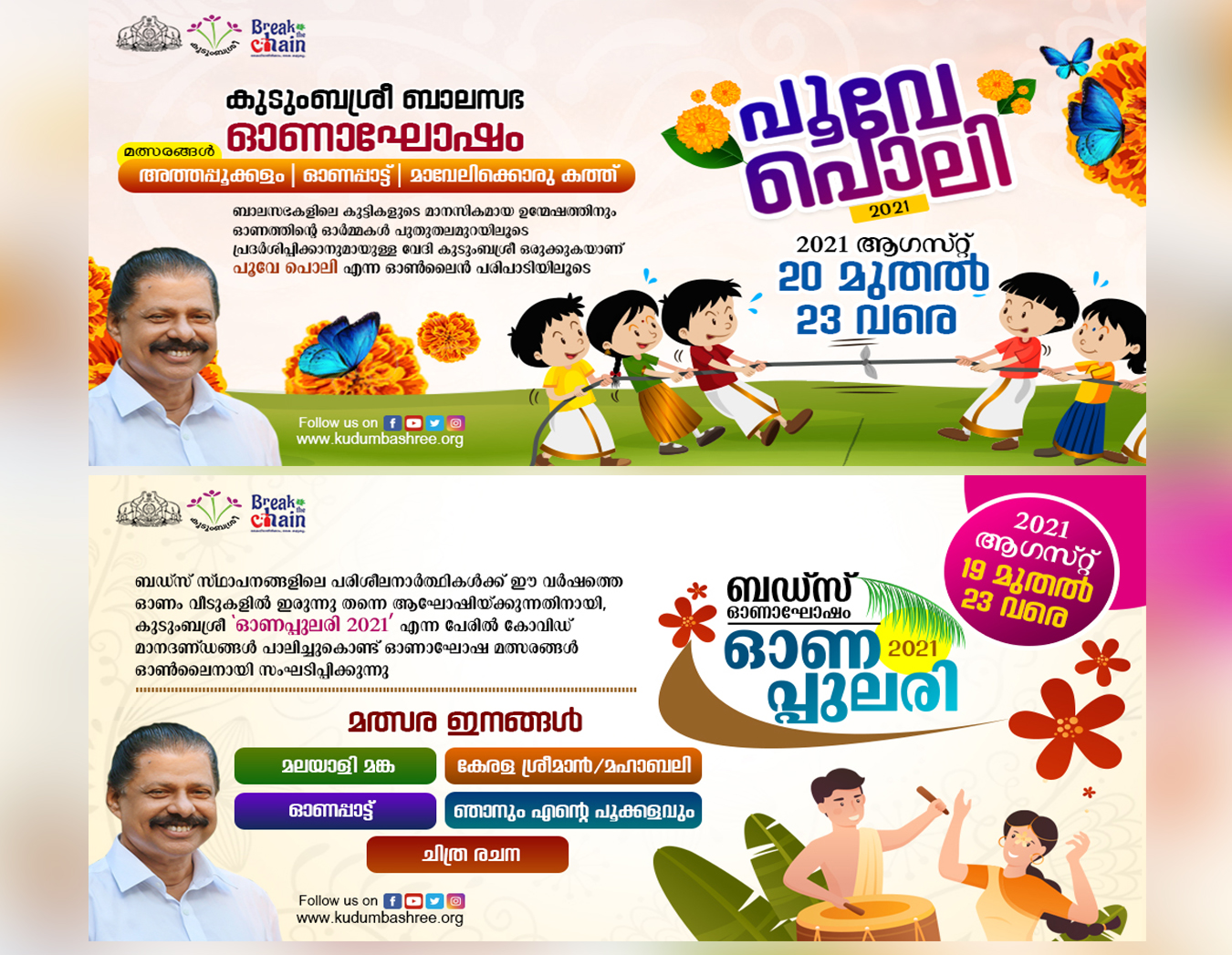 The onam celebrations for the Balasabha members were organized in the name 'Poove Poli 2021'. The Poove Poli was started from 20 August 2021 and it included various competitions such as ' Mavelikkoru kath' (A letter for Maveli), 'Onappattu' (Onam Song) and 'Athapookkalam'. The members had participated in the competitions as groups representing their respective Balasabhas. The videos/photos of the competitions were sent to the concerned people at the CDS level. The competitions 
were held till 23 August 2021 and around 4 lakh children became part of these celebrations.
Content highlight
Kudumbashree organized 'Onapulari' & 'Poove Poli'-Online Onam celebrations for BUDS children and Balasabha members