'Kerala Chicken', the project conceptualized and launched by the Government of Kerala to ensure the market of good quality chicken at affordable rates all across the state is being a hit among the public. Kudumbashree was able to make a sales of Rs 50.20 crores until now through this project which was started during November 2017. Sales of around Rs 20 lakhs are recorded per day. More than 25 lakh chickens have already been sold out. The project is jointly being implemented by Kudumbashree and the Animal Husbandry Department.

The project is supervised by the Animal Husbandry Department. Kudumbashree implements two activities, viz., taking chicken to the market through integration farming and launching & running the processing units. Kudumbashree Broiler Farmers Producers Company Limited (KBFPCL) has been started for the same. In the initial phase, Kudumbashree did the activity of starting the farms and bringing the broiler chicken from these farms to the market. Later, from June 2020, onwards, specially branded, exclusive marketing outlets of Kerala Chicken were also started. Through these outlets, Broiler Chicken was made available in the brand, 'Kerala Chicken'.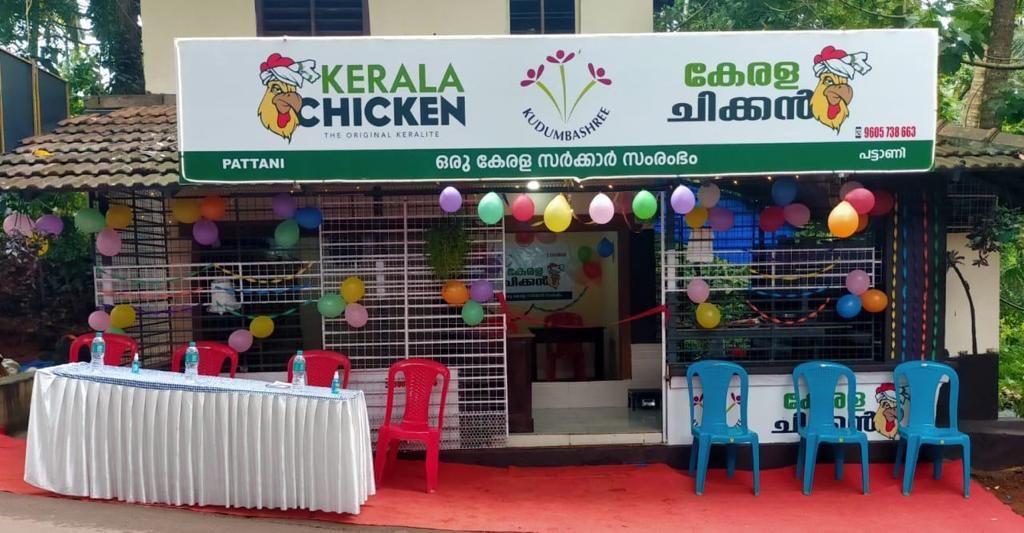 As of now, 248 farms and 82 marketing outlets are functioning as part of the Kerala Chicken project, which is being implemented through Kudumbashree. The farms and marketing outlets are functioning in 6 districts viz., Thiruvananthapuram, Kollam, Kottayam, Ernakulam, Thrissur and Kozhikode. The matured broiler chicken is directly taken from the farms to the marketing outlets. Livelihood opportunities were opened for 330 families through these farms and marketing outlets. In the second phase, these activities would be extended to4 more districts viz., Palakkad, Malappuram, Kannur and Alappuzha. We are also making efforts to extend Kudumbashree's Kerala Chicken Project to the remaining 4 districts as well.
Content highlight
'Kerala Chicken' a big hit among the public: Sales of Rs 50.20 crores recordeden