The registration for 
'PEARL' (Pravasi  Entrepreneurship Augmentation and Reformation of Livelihoods), the Pravasi Bhadratha Nano Programme being implemented through Kudumbashree has been started. The 
Pravasi Bhadratha Programme formed by the Government of Kerala through NORKA Roots to support the emigrants who are in crisis due to covid-19, had officially been launched on 26 August 2021. As part of this Kudumbashree has received the opportunity to implement the Pravasi Bhadratha Nano Programme, converging with the NORKA Roots. The registration process of this programme has been started now. The details of the 'PEARL' Programme is given as follows.


1. Who are the beneficiaries?
The emigrants who lost their livelihood in the background of covid-19 pandemic are the beneficiaries of this programme. They should be the family members of Kudumbashree NHG members (who hold an NHG membership for a period of at least 6 months) or be the family members of the newly formed women auxiliary groups of Kudumbashree. The beneficiary should have been an emigrant for at least 2 years. Either men or women can become the beneficiaries of the programme. The family members of the emigrants who had died due to covid-19 can become the beneficiaries of the programme. If the jobless emigrant is a patient, their family members can also become the beneficiaries of the same. Those who have already started the enterprise after returning to their homelands losing their livelihood due to covid-19 can expand the same through this programme.

2. Which are the various stages of the programme?
In the first stage, the jobless emigrants would be identified and be considered as a special section. Those who are interested in starting the enterprises would be equipped for the same. In the second stage, they would be equipped to become entrepreneurs by extending General Orientation training, Entrepreneurship Development training and skill training.  Those emigrants who do not need skill training and have prior experience can make registrations at the respective CDSs directly for starting the enterprises. In the third stage, the needed financial aid and support would be given to the enterprises and efforts would be made to start the enterprises and ensure the sustainability of the same.

3. How is financial support given?
The beneficiaries would be given interest free loans of a maximum of Rs 2 lakhs per individual or 75% of the total project cost of the enterprise, whichever is lower. The remaining 25% amount should be borne by the beneficiaries. The beneficiaries should repay this Interest Free Loan as equal installments within 21 months after the three month moratorium period, once the first installment is received.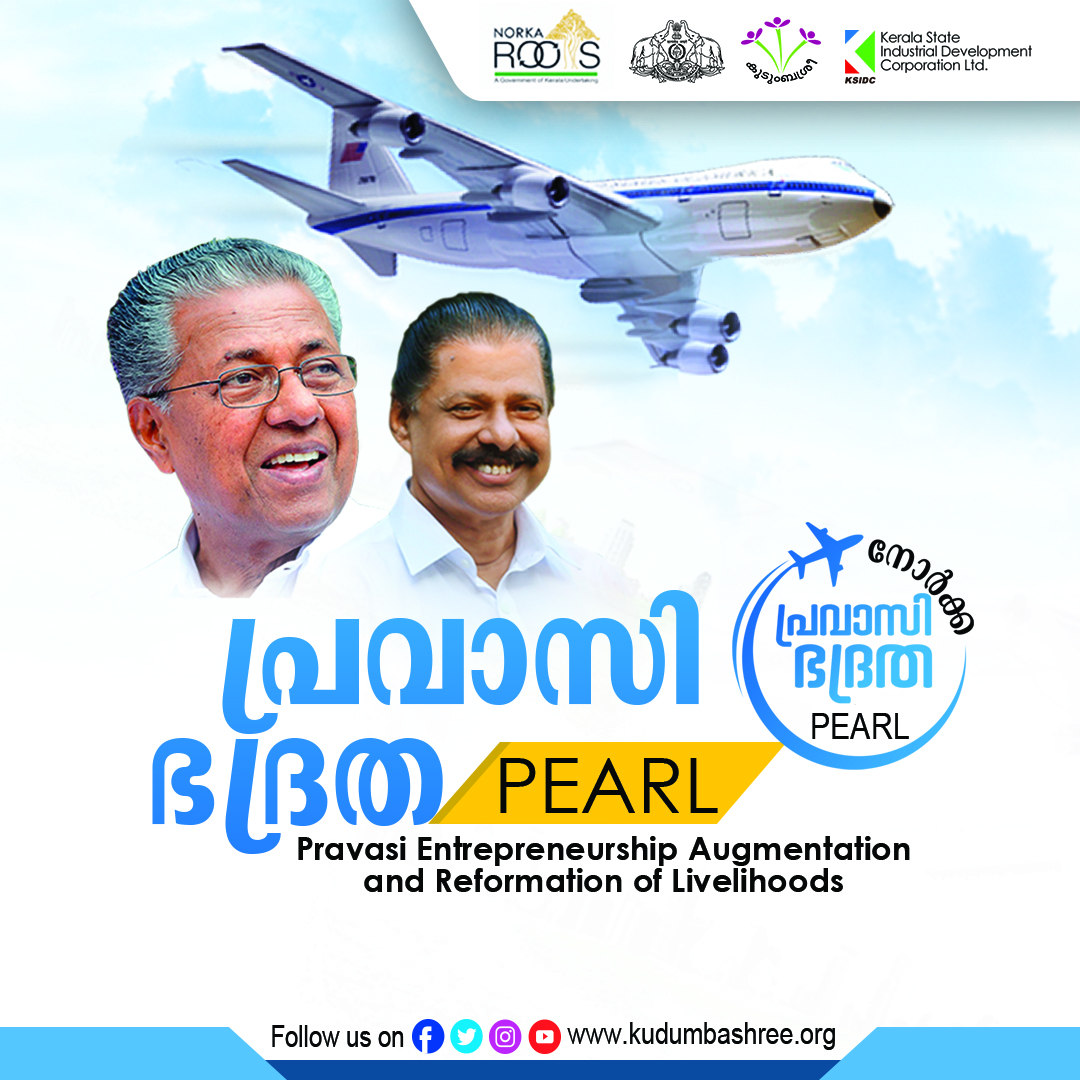 4. How to apply?
The application form is available on the website of Kudumbashree. It is also available at the CDSs.  The beneficiaries should submit the applications at the respective CDSs, along with the documents that prove their eligibility to become part of the programme. Those who need the enterprise training should register in the Kudumbashree job portal. The application form, job portal link and other details are available in this link:  
www.kudumbashree.org/pearl
.
Content highlight
Registration starts for 'PEARL' for the emigrants who are in crisisen