Kudumbashree Silver Jubilee Year Celebrations has been kickstarted at Thiruvananthapuram. Shri. M.V Govindan Master, Minister, Local Self Government Department and Excise Department, Government of Kerala inaugurated the Silver Jubilee Year Celebrations of Kudumbashree, in the presence of 1070 CDS Chairpersons from across the state, at the function held at Girideepam Convention Centre, Nalanchira, Thiruvananthapuram on 17 May 2022. "Kudumbashree has raised the women of Kerala to the main stream of the society through relentless efforts of the last 24 years", the minister said. "Kudumbashree has played a prideful role in empowering the women of Kerala, socially and financially, equipped the women to enter into power, increase their visibility in the society and increased their intervening skills in social issues and these are the important milestones in women empowerment", added the minister.
"Kudumbashree has turned into an organization that plays an important role in strengthening the local economic development by securing various livelihood opportunities, skill training, housing, basic amenities and available of clean drinking water. Kudumbashree has a history of leading the society forward through selfless efforts and undoubtedly, Kudumbashree will become an important organization that play a significant role in building 'Navakeralam' (New Kerala). This women fraternity is implementing traditional and innovative projects in agricultural-micro enterprise sector and has extended support to the state in crisis situations. In addition to the successful implementation of various centrally sponsored programmes, Kudumbashree has grown into a National Resource
 Organization, that replicates the women empowerment- poverty eradication models of Kudumbashree in other states. Now, the next aim is to equip Kudumbashree to implement more comprehensive development programmes as per the need of the new era with the strength of the work experience of 24 years. Kudumbashree is now making eff
orts to extend livelihood to maximum number of people by converging with K-DISC and other departments", he added.      
"Kudumbashree had succeeded in bringing women who were stuck up in the households to better entrepreneurs and had also 
in equipping the women mentally and intellectually and make them effectively intervene in the developmental activities of the state", said Dr.
R Bindu, Minister for Higher Education and Social Justice, Government of Kerala, who presided over the function.         
"Kudumbashree had taught thousands of women to fight back poverty and live with pride and thereby was able to make a revolutionary change in the social scenario of Kerala", said Sm
t. J. Chinchurani Minister for Animal Husbandry and Dairy Development, 
Government of Kerala.
Smt. P.I Sreevidya IAS, Executive Director, Kudumbashree welcomed the gathering. Chairman, Vice Chairman and senior officials from Sunder Nagar Municipal Corporation of Himachal Pradesh who came to Kerala to study about Kudumbashree had felicitated Shri. M.V Govindan Master, Smt. Sarada Muraleedharan IAS, Additional Chief Secretary, Local Self Government of Kerala and Smt. P.I Sreevidya IAS.

Ms. Arya Rajendran, Mayor, Thiruvananthapuram Corporation,  Shri. Johnson Joseph, Counsellor, Nalanchira, Smt. Geetha Nazeer, Member, Kudumbashree Governing Body, Smt. Saleena and Smt. Omana Kumari who represented various CDS gave away the felicitations. Smt. Sindu Sasi, CDS Chairperson, Thiruvananthapuram CDS 1 delivered vote of thanks. 
Seminars were conducted on topics such as 'Navakerala Formation and Kudumbashree', 'Local Economic Development-Role of Kudumbashree', 'Gender Equality and Priority Approaches'. Shri. T.K Jose. Additional Chief Secretary, Home Department, Government of Kerala, Smt. Sarada Muraleedharan IAS, Additional Chief Secretary, Local Self Government of Kerala, Dr. T. N Seema, State Coordinator, Navakeralam Mission, Smt. P.K Sreemathi Teacher, Dr. J Devika, Social Scientist, Shri. Jagajeevan, Executive Director,  Grameena Patana Kendram, Karakulam, Smt. Shyama S Prabha, State Coordinator, TG Cell,  Adv, Sindhu Ajayakumar, Smt. Haritha, Smt. Omana Kumari, Smt. Saleena, Smt. Sajna, Smt. Sasikala, CDS Chairpersons spoke at the function. Dr. M Surjith, District Mission Coordinator, Kudumbashree Kannur District Mission,  Shri. Sajith Sukumaran, Chief Operating Officer, Kudumbashree NRO and Adv. T. Geena Kumari, Social Activist were the moderators of the seminar.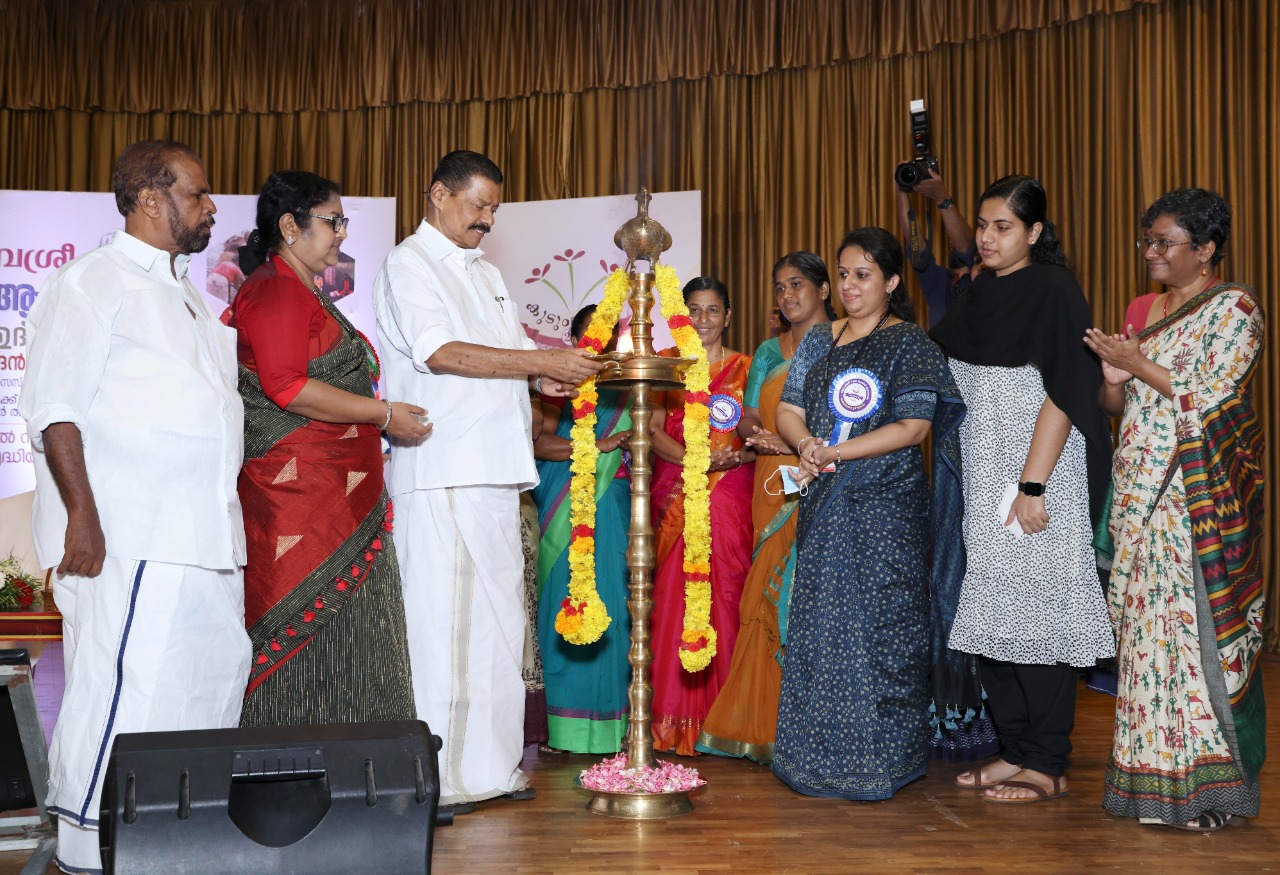 Content highlight
Kudumbashree Silver Jubilee Year Celebrations starts