Winners of 'Onapulari' and 'Poove Poli', the online onam celebrations, which consisted of various competitions, organized amidst the crisis of covid-19 pandemic, for the students of BUDS Institutions and Balasabha members, in all its glory, taking necessary precautions has been announced. Shri. M. V Govindan Master, Minister, Local Self Government Department, Government of Kerala announced the state level winners of these competitions on 17 September 2021. A panel of experts had selected the winners. The winners would be awarded with momentos, certificates and other gifts. 
'Onapulari 2021' the onam celebrations organized for the students of the BUDS Institutions that function in the Local Self Government Institution Level was held during 19-23 August 2021. 'Malayali Manka', 'Kerala Sreeman/Mahabali', 'Onappatt', 'Njanum ente pookkalavum', Drawing competition etc were organized in the junior-senior levels.  Parents took the photo/ video of the performances of the BUDS students and sent the same to the BUDS teachers. A total of 3058 children from BUDS Schools and BUDS Rehabilitation centres have become part of these celebrations. 'Poove Poli 2021', the onam celebrations organized for the Balasabha members were held during 20-23 August 2021. ' Mavelikkoru kath' (A letter for Maveli), 'Onappattu' (Onam Song) and 'Athapookkalam' competitions were organized and 28,015 students from 6344 Balasabhas participated. Balasabha members took part in the competitions, by sending the videos or photos of the competitions to the concerned people in the CDS level.  A panel of experts selected the winners at the district level as well.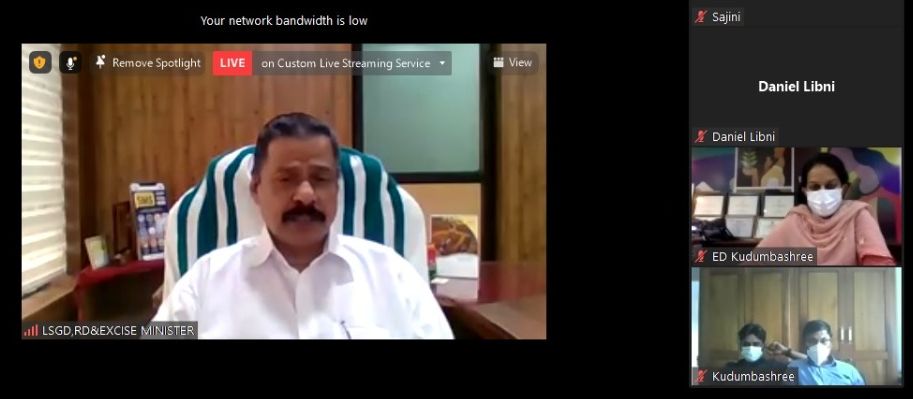 The results of the competitions are available in this link:  www.kudumbashree.org/onam2021. Kudumbashree team members had taken greater efforts in formulating, coordinating and implementing the programmes at its best to celebrate the onam in all its glory, amidst the crisis of covid-19 pandemic.
Content highlight
Winners Announced : 'Onapulari' & 'Poove Poli' Online Onam celebrations for BUDS children & Balasabha members